"Making Faces" is a masterclass by Oscar®-winning animator Chris Landreth, for animators and character riggers who want to master the art of Facial Animation.
From when we were born, we've been hard-wired to see the minute details of human faces. When we see a CG animated character, we know instantly when his/her face is 'right' or 'wrong' within a moment of looking at it.
This course will focus on creating and animating the faces of human characters that are 'right': realistic, believable and compelling. You will learn about the appearance and behavior of faces, then apply this to the faces of detailed CGI characters.
You will learn the alphabet of the language of human faces. This alphabet is known as FACS, the Facial Action Coding System, developed by pioneer psychologist Paul Ekman 40 years ago, a system used by character animators and animation studios universally to this day.
And with this alphabet, you will compose your own poetry of facial acting. During this course, you will create animations of character faces that will astonish you and advance your character animation skills immeasurably.
Chris teaches this class in a variety of formats, ranging from 3-hour lectures to 42-hour courses with intensive, hands-on learning.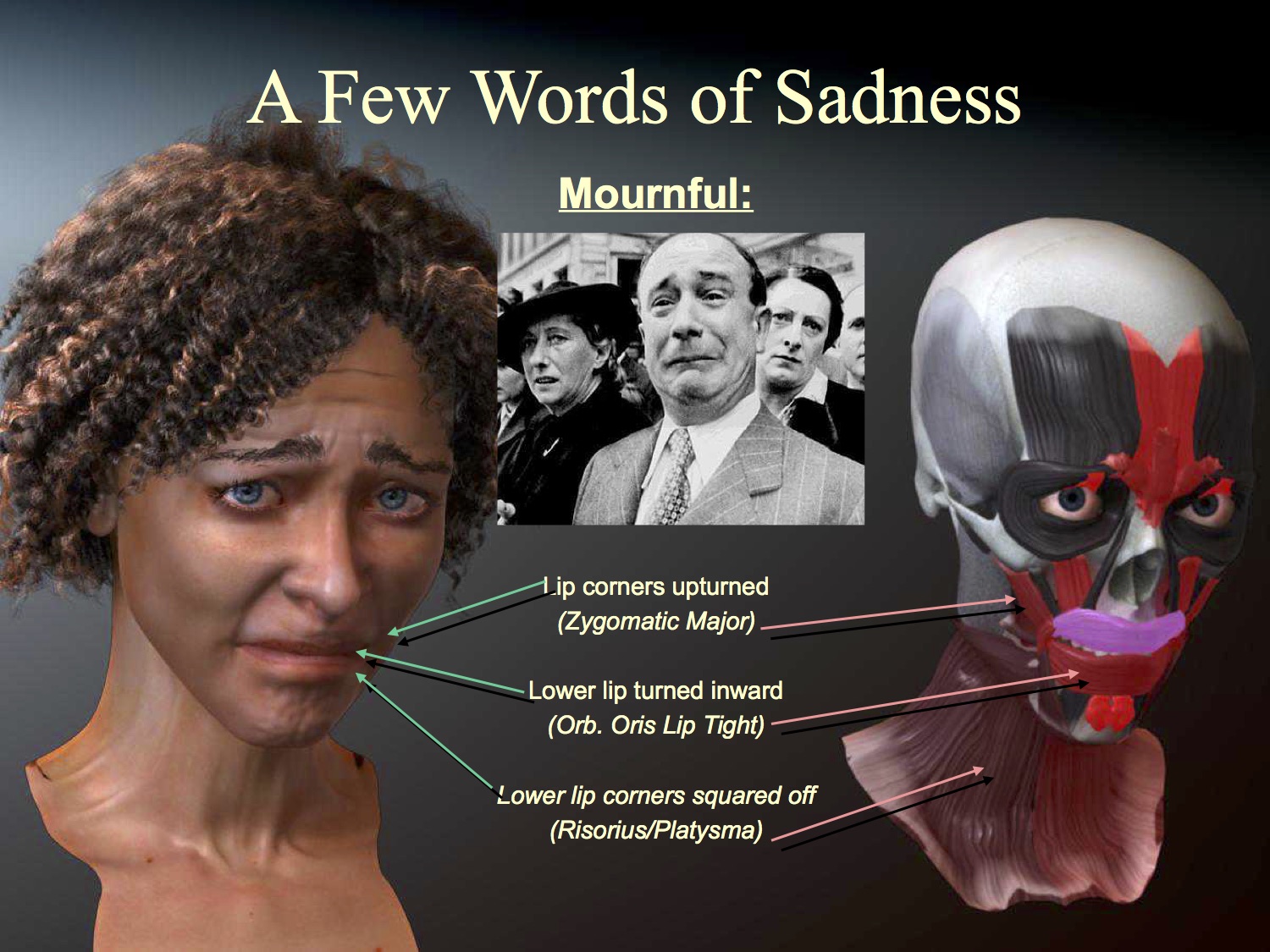 In this course you will learn:
The Features of Human Facial Expression

Anatomy of a Human Face

Anatomy-Based Rigging

Compelling Speech and Lipsynch

The Psychology of Facial Expression

Avoiding the Uncanny Valley

Acting with faces

GREAT FACIAL ANIMATION
Prerequisites
Intermediate knowledge of CGI character animation,
intermediate experience with Maya or similar animation software.
Recent and upcoming classes
University West, Trollhättan Sweden, three-day masterclass, November 16-18
Netherlands Film Academy, Amsterdam: a four-day masterclass, October 25-28
past workshops
Syracuse University, February 2016
University West - Trollhättan Sweden, November 2015
Hochschule Luzern - Lucerne Switzerland, February 2015
DeTao Masters Academy - Kunlun Online Beijing, January 2015
Anima Mundi - Rio de Janeiro Brazil, August 2014
DeTao Masters Academy - IACC Shanghai China, July 2014
University of Pennsylvania - Philadelphia PA; January - May 2014
University West - Trollhättan Sweden, May 2014
FMX - Stuttgart Germany, April 2014
Rochester Institute of Technology, April 2014
DeTao Masters Academy - Shanghai and Beijing China, April-May 2013
Digital Domain Vancouver, December 2011
L'École Georges-Méliès, Paris, February 2011
Dreamworks Dedicated Unit, Bangalore India, February 2011
University of Toronto, January-May 2011
Dreamworks Animation Studio, Glendale California, October 2010
For any questions or to request Chris for a workshop, please use the form below.